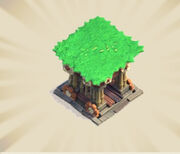 "These Assassins surprise invading troops with a deadly surprise attack!  And you thought ninjas were sneaky..." 
The Assassin's Den is a hidden defensive structure that behaves like a trap. It lies hidden until enemies are within range; at that point it reveals itself, spawning troops of Assassins from inside. After it strikes you must refill it with essence.
Refilled (with Essence ) between uses.
Particularly effective against high-tier troops like Oni's, but swarms of Samurais stand a chance to overpower them
When the assassins are triggered, they will take their first attack quickly, but will take time to attack again.
| Attack Range | Damage Radius | Mission Unlocked |
| --- | --- | --- |
| 5 | 1 | Den of Assassins |
| Castle Level | 1 | 2 | 3 | 4 | 5 | 6 | 7 | 8 | 9 | 10 | 11 |
| --- | --- | --- | --- | --- | --- | --- | --- | --- | --- | --- | --- |
| Number of Assassin's Dens | 0 | 0 | 0 | 1 | 1 | 2 | 2 | 2 | 3 | 3 | 3 |
| Level | HP | Troops | Troop Damage | Damage | Refill Cost (Essence) | Upgrade Cost (Jade) | Time | Castle Level |
| --- | --- | --- | --- | --- | --- | --- | --- | --- |
| 1 | 300 | 2 | 300 | 600 | 40,000 | 200,000 | 30m | 4 |
| 2 | 350 | 3 | 300 | 900 | 75,000 | 2,500,000 | 2d | 6 |
| 3 | 400 | 4 | 300 | 1200 | 125,000 | 5,000,000 | 4d | 7 |
| 4 | 450 | 5 | 300 | 1500 | 175,000 | 10,000,000 | 8d | 8 |
| 5 | 500 | 5 | 400 | 2000 | 225,000 | 20,000,000 | 16d | 9 |
| 6 | 550 | 6 | 450 | 2700 | 550,000 | 50,000,000 | 16d | 11 |