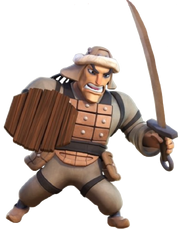 "Armored and dangerous! Hit these guys hard or they won't even notice"
The Mongol is unlocked after completing the "Tough Love" Mission on the single-player campaign. Like Samurai, they target the nearest buildings and can be led by Commanders.

What sets Mongols apart from other troops is their Negated Damage ability. This makes them excellent when facing low Damage-per-Shot defenses such as a Drum Gun or a low level Archer Tower, not to mention splash damage from Fire Arrows, but is less effective against high Damage-per-Shot defenses such as an Archer Tower with Heavy Arrows.
| Yard Space | Attack Range | Seconds Per Attack | Walk Speed | Training Time | Mission Unlocked |
| --- | --- | --- | --- | --- | --- |
| 2 | 0.4 | 1 | 2 | 40 seconds | Tough Love |
| Level | Health | Damage Per Second | Negated Damage | Training Cost (Essence) | Cost to Upgrade | Time to Upgrade | Blacksmith Level Required |
| --- | --- | --- | --- | --- | --- | --- | --- |
| 1 | 120 | 30 | 5 | 500 | - | - | - |
| 2 | 144 | 39 | 6 | 1,000 | 700,000 | 1d | 2 |
| 3 | 172 | 51 | 8 | 2,000 | 1,800,000 | 2d | 3 |
| 4 | 206 | 66 | 10 | 4,000 | 7,000,000 | 5d | 5 |
| 5 | 247 | 86 | 12 | 6,000 | 15,300,000 | 8d | 6 |
| 6 | 280 | 106 | 14 | 8,000 | 27,500,000 | 10d | 7 |
| 7 | 330 | 126 | 16 | 10,000 | 38,500,000 | 14d | 8 |
See Also: Samurai | Ninja | Ram | Commander | Archer | Oni Troll | Healer | Essence Master | Dragon