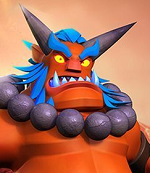 This immortal orange juggernaut will flatten your foes with huge swings of his mighty club! Flies into a berserker rage and inspires nearby troops - upgrade him to inspire more troops and increase his power!
Rashomon is a powerful tank hero that can take a lot of damage. In addition to having some of the highest HPs in the game, he will enter a berserk state after being reduced to 99% HP. His berserk rage affects himself and nearby troops, increasing both speed and damage of attacks. The stronger he is, the more nearby troops will go berserk. Unlike the directions given by a Commander, all troop types can go berserk--including fire demons and dragons.
Rashomon level 31 and higher will do splash damage.
Rashomon will continue to buff troops as other buffed troops die off, so keeping him alive is beneficial.
In the past Rashomon would need to be healed after taking damage, but this was removed so he can now be used on every attack.
You can toggle Rashomon to guard your base on defense.  Since the healing penalty was removed there is little reason to toggle off his protective presence.  While acting on defense, he will not go berserk.
Rashomon levels 1-20 are comparably inexpensive totalling 5305 onyx, which is comparable to the Zen Tree Master from the onyx store, and 15005 to upgrade to level 30, comparable to Lord Ifrith. Due to his synergy with other units, however, he is likely a better purchase than either bonus camp.
Rashomon costs a whopping 33615 onyx and over 213 days to fully upgrade to level 40, making him one of the best units in the game, but also the most expensive.  He is also not usable while upgrading, which means using diamonds to speed up his upgrade time might be worthwhile.
Rashomon can only be healed by Arch Healer Ine and
other special healers.
The beserk troops will stay beserk when he dies.
| Hero Level | Health | Damage Per Second | Damage per Hit | Upgrade Time | Cost (Onyx) | Number of troops buffed |
| --- | --- | --- | --- | --- | --- | --- |
| 1 | 870 | 104 | 166.4 | - | - | 2 |
| 2 | 916 | 111 | 177.6 | 1 | 60 | 4 |
| 3 | 937 | 114 | 182.4 | 1.3 | 70 | 4 |
| 4 | 962 | 116 | 185.6 | 1.6 | 80 | 4 |
| 5 | 990 | 119 | 190.4 | 1.9 | 95 | 5 |
| 6 | 1022 | 122 | 195.2 | 2.2 | 115 | 5 |
| 7 | 1058 | 126 | 201.6 | 2.5 | 135 | 5 |
| 8 | 1098 | 130 | 208 | 2.8 | 160 | 5 |
| 9 | 1142 | 134 | 214.4 | 3.1 | 185 | 5 |
| 10 | 1189 | 139 | 222.4 | 3.4 | 210 | 8 |
| 11 | 1241 | 144 | 230.4 | 3.7 | 240 | 8 |
| 12 | 1296 | 149 | 238.4 | 4 | 275 | 8 |
| 13 | 1355 | 155 | 248 | 4.3 | 310 | 8 |
| 14 | 1418 | 161 | 257.6 | 4.6 | 350 | 8 |
| 15 | 1485 | 167 | 267.2 | 5 | 390 | 9 |
| 16 | 1555 | 174 | 278.4 | 5.5 | 430 | 9 |
| 17 | 1630 | 181 | 289.6 | 6 | 475 | 9 |
| 18 | 1708 | 188 | 300.8 | 6.5 | 525 | 9 |
| 19 | 1790 | 196 | 313.6 | 7 | 575 | 9 |
| 20 | 1876 | 204 | 326.4 | 7 | 625 | 12 |
| 21 | 1966 | 213 | 340.8 | 7 | 680 | 12 |
| 22 | 2059 | 222 | 355.2 | 7 | 740 | 12 |
| 23 | 2157 | 231 | 369.6 | 7 | 800 | 12 |
| 24 | 2258 | 240 | 384 | 7 | 860 | 12 |
| 25 | 2263 | 250 | 400 | 7 | 925 | 13 |
| 26 | 2472 | 260 | 416 | 7 | 995 | 13 |
| 27 | 2585 | 271 | 433.6 | 7 | 1065 | 13 |
| 28 | 2701 | 282 | 451.2 | 7 | 1135 | 13 |
| 29 | 2822 | 293 | 468.8 | 7 | 1210 | 13 |
| 30 | 2946 | 305 | 488 | 7 | 1290 | 16 |
| 31 | 3074 | 317 | 507.2 | 7 | 1450 | 16 |
| 32 | 3206 | 329 | 526.4 | 7 | 1535 | 16 |
| 33 | 3342 | 341 | 545.6 | 7 | 1620 | 16 |
| 34 | 3481 | 353 | 564.8 | 7 | 1710 | 16 |
| 35 | 3625 | 363 | 580.8 | 7 | 1805 | 18 |
| 36 | 3772 | 377 | 603.2 | 7 | 1900 | 18 |
| 37 | 3923 | 389 | 622.4 | 7 | 1995 | 18 |
| 38 | 4078 | 401 | 641.6 | 7 | 2095 | 18 |
| 39 | 4237 | 413 | 660.8 | 7 | 2200 | 18 |
| 40 | 4400 | 425 | 680 | 7 | 2300 | 20 |